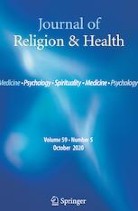 In December of 2020, I concluded a decade-long tenure as editor in chief of the Journal of Religion and Health. I had been toying with resigning this position for some time and finally have done so. But 2020 held one of the great unforeseen opportunities and challenges for my editorship. In March 2020, everything shut down due to the advent of the COVID-19 pandemic. In our April issue, I asked in my regular editorial for contributions regarding the impact of the pandemic. In the wake of this request, I was contacted by one of the Journal's editorial board members, Harold Koenig, M.D., of the Duke University's Department of Psychiatry and Behavioral Sciences. He suggested we might work together on a part of an issue, a special section, contributed to by a broad cross section of scholars and social scientists who could address what we came to entitle the "Religion and Health Response to the COVID-19 Pandemic."
Harold and I both knew individuals who might be potential contributors to this enterprise. Almost without exception those invited responded positively and in short order. Our objective was to fashion what we understood to be a "second draft of history" that could succeed any "first draft" written by journalists and commentators. It would contribute to answering the questions we supposed future researchers might ask about what religious leaders and communities did to address the first wave of the pandemic: what were they thinking, what did they know, what did they do, and did they make a difference and why?
The special section included contributions by religion and health experts associated with, among others, Harvard, Duke, Weill Cornell, Johns Hopkins, the University of Michigan, Baylor, and Washington University. There was a particular focus on the religious activities in three of the most beleaguered of American cities: Baltimore, Detroit, and St. Louis. All this material was requested, assembled, peer reviewed, edited, and put into production for the Journal's issue of October of 2020, five months following my original request.
In looking back on this succession of events, I realized that this was indeed my "last act" in my leadership of the Journal. I would have wanted with all my heart not to have to address this terrible event in our country's, and indeed the world's, history. I had no choice. I had rank, responsibility, and resources to make a difference. For some reason unknown to me in April, I had forestalled my resignation a year earlier and stayed on. I recalled well after the October issue came out that it is at times of great crisis that some of the most important intellectual work is done. I thought back to my reading of Karl Barth's The Epistle to the Romans where Barth radically affirmed the sovereignty of God even as his nationalist professors enthusiastically supported Germany's entry into World War I. And I also remembered this quotation from John F. Kennedy, one he derived from his reading of Dante, "The hottest places in Hell are reserved for those who in times of moral crisis preserve their neutrality." I was morally obligated to act—which meant in this case to write, assemble, and publish. Neutrality, which in this case would have meant moving forward with editorial business as usual, was not an option. The Spirit has a strange way of working when historical events and moral obligation seek and find one another. This "last act" of my editorship afforded me the opportunity to learn this grand lesson one more time.